LIMITED TIME OFFER:  Try LOVE10 for $10 OFF on your 1st box!
The perfect date night
No planning. No Stress. More Connection.
A fun and romantic date night delivered to your door (in a box)
HOW DATE IN A BOX WORKS?
Is it hard to plan a romantic date night with your partner? 
Let us plan your perfect date night every month!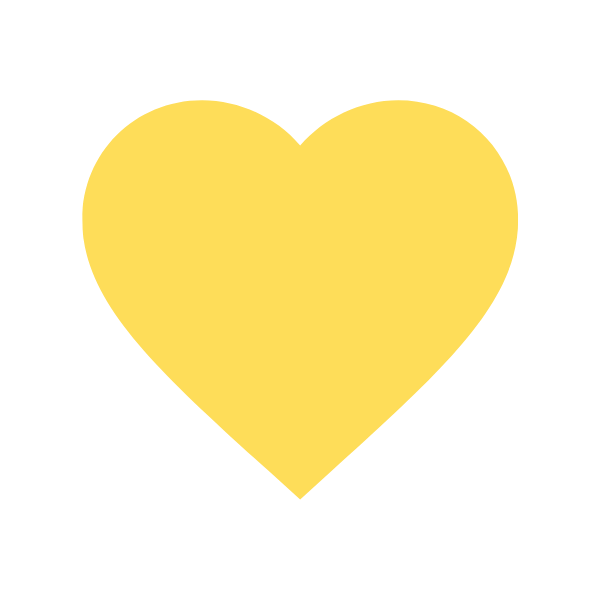 Subscribe to our monthly dates in a box "ready-to-rock-your-nights"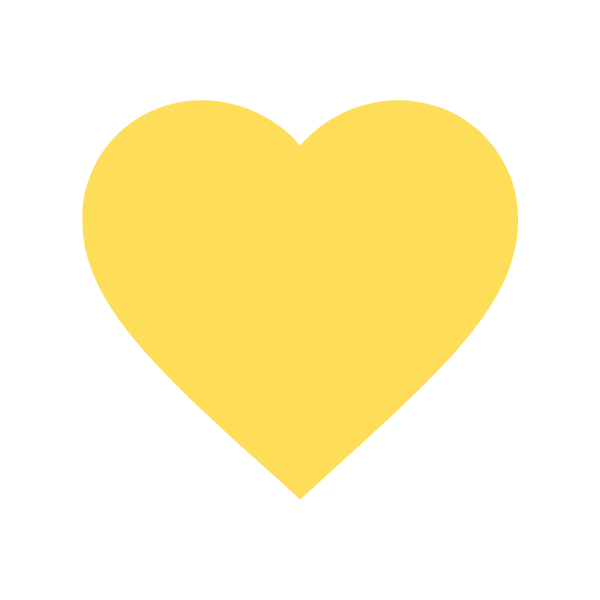 Step 2 - We Create your date
Every month we plan a new date night and deliver it to your door.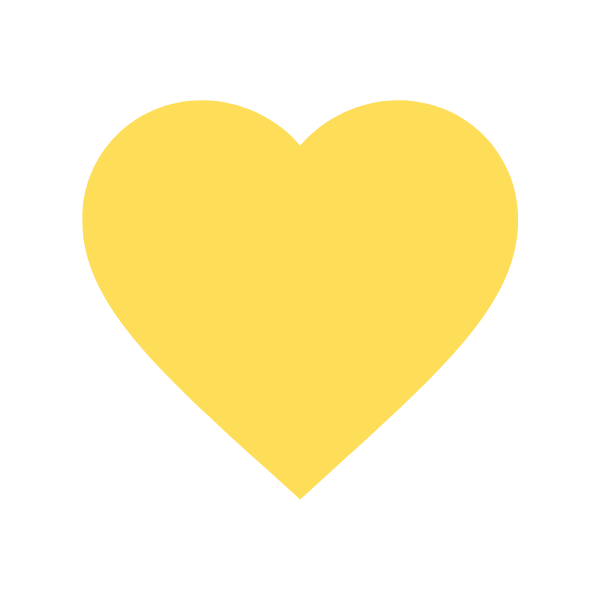 Step 3 - It's Date night!
Enjoy connecting and spending quality time with your partner.
 Our plans are flexible. You can pause or cancel   anytime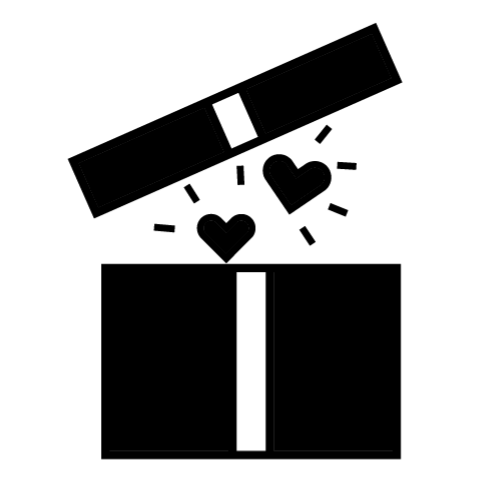 What's inside in your box?
Every month you will receive a new date with everything you need including in the box.
No planning is required. Just save the date in your calendar.
Each box includes:
💖 A warm-up activity – to get the date started.


💖 A date night game – to do something new and have fun together.


💖 A relationship-building activity – to help you connect and inspire new conversations.

💖 Relationship tips to discuss together – to strengthen your relationship.
💖A playlist, delicious gourmet snacks and other goodies – to set the mood.
Our promise: we will surprise you every month. You would never know what's your next adventure!
Peek inside some of our boxes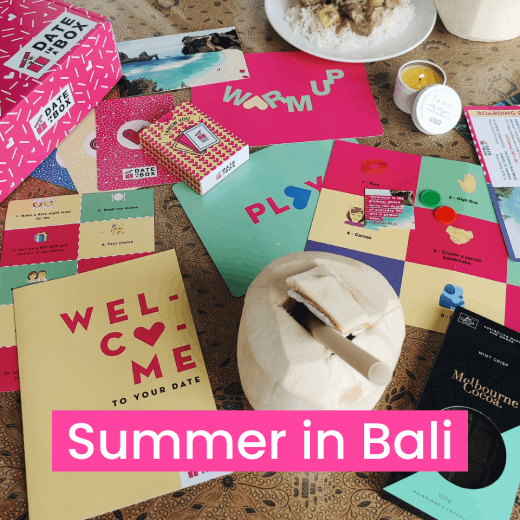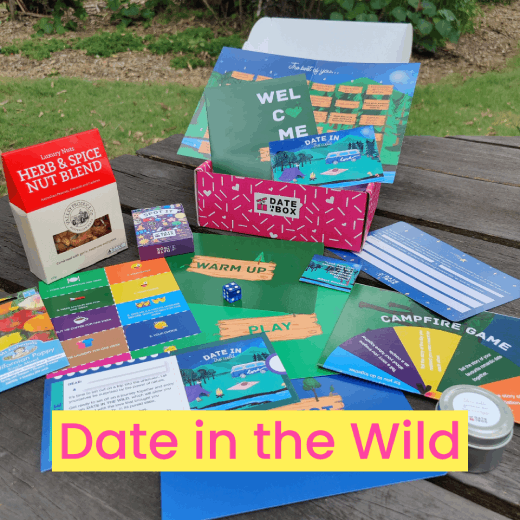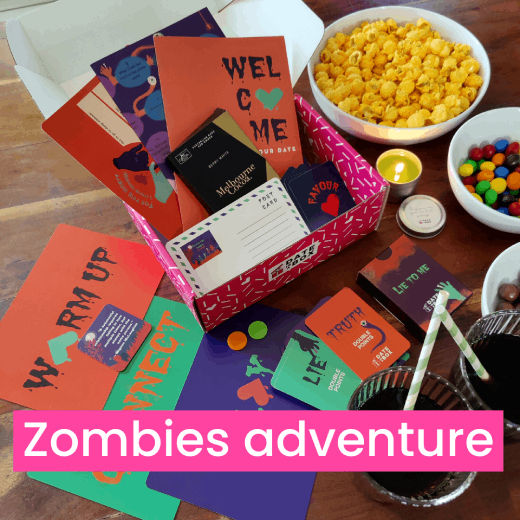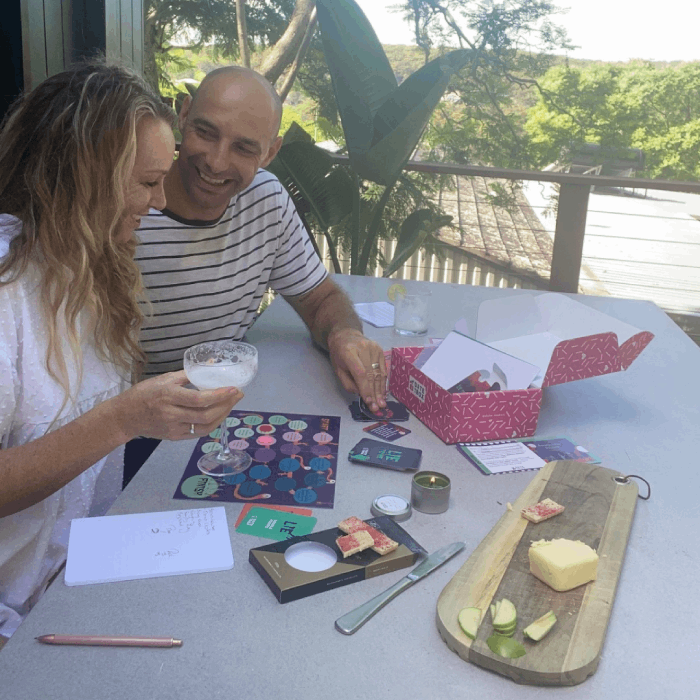 We make date night easy  and fun!
Stress-Free: Take the pressure off date night. No thinking or planning is required plus everything you need is delivered right to your door.
Fresh Ideas: Is it hard to come up with new ideas? No worries! Every month is a new theme and a new date night adventure
Quality time together: Our dates are perfectly designed to ensure you spend time connecting and having fun with your partner.
Budget-friendly: Our dates are cheaper than going out, plus they are more fun & help you to connect in a deeper way.
Start reconnecting with the love of your life today!
Start at

$

44.99
per date! FREE SHIPPING.
Satisfaction guarantee
or your money back
Over 5000 dates night delivered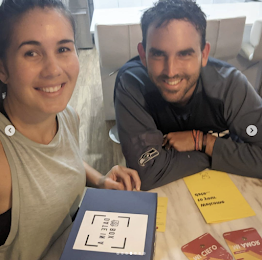 "The team at @date.inabox have set up such a cool concept. Each month you get a Date Night box delivered to your door. It includes snacks, games, activites & a playlist. It's always something different. [...] It was so lovely to feel connected on a deeper level. Sometimes you miss that level of connection in the excitement & routines in life."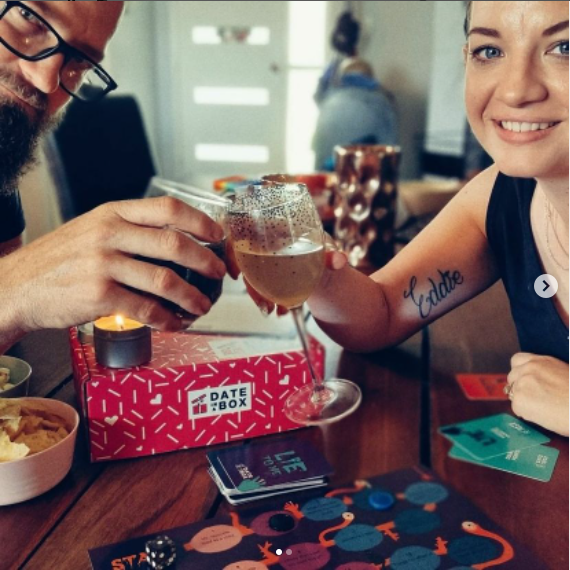 "Sneaking in some one on one time while the kids are occupied. It's so important as parents and partners to find the balance, to keep things fresh and the spark ignited. Tim works big hours and as a full-time carer to Archie. I'm exhausted 99% of the time. These boxes make things so easy. No trying to think of something to do. Its all organised for us. Thank you @date.inabox for keeping it fun and simple for us exhausted and brain fogged mum and dads!!"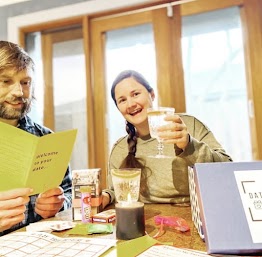 "We haven't left the house since forever and wanted to do something special just for us. The @date.inabox is a super cool concept which includes everything you need for a fun night in 💕 Games, snacks and conversation starters are all included and we had lots of laughs reconnecting."
Every month you will receive a box with everything you need to have a date night (no planning required!).
Each box includes a warm-up activity, date night games to have fun, connection activities to inspire meaningful conversations and reconnect, a playlist, gourmet snacks, a candle and other themed items to set the mood. Each box takes about 1 to 2 hours to complete.
Your first box will be shipped within 7 days. Your following boxes will be shipped monthly at the same time – on or around the 18th of the month.
How do I pause or cancel?
You can pause or cancel any time before your renewal date (1st of each month). To cancel or pause your subscription, simply log into your account.
Can I purchase a one-time box?
No, we do not offer one-time boxes. However if you would like to try us out, you can choose to subscribe to a month-to-month subscription, which gives you the flexibility to skip or cancel anytime.
Can I give this as a gift?
Sure can! Choose the length of their subscription and in the check out select the option "this is a gift". Be sure that you correctly enter your billing address but THEIR shipping address.
Ready to reconnect with your partner and grow your relationship?